DE STAAT VAN VERZORGING 
Commissioned research project by Stroom, Den Haag 2020-2021
Project in collaboration with  Mirjam Linschooten, Koen Kievits, Jack Engelbrecht and Jakob van Klinken. Artist Rachel Bacon supported our research with smart artistic advice.
Out of different angels we focused on the environmental policies of The Hague. The results of the various sub-studies that we did as part of  "De Staat van Verzorging"  provide an insight on how the city Den Haag deals with its green spaces.
Results are shown on the website we created for this occasion: https://staatvanverzorging.nl
Focusing on the square in The Hague called Zuidwalland, I researched the circumstances of the origination of one particular "garden" in the middle of that square. The large fence around the big flowerbed made me worder about the use of public space in this particular part of the city. My journey includes interviews with Environmental officer of The Hague, the architect of the building complex Zuidwalland and residents of that area. The project is in further development and I have planed two perforamances on this spot.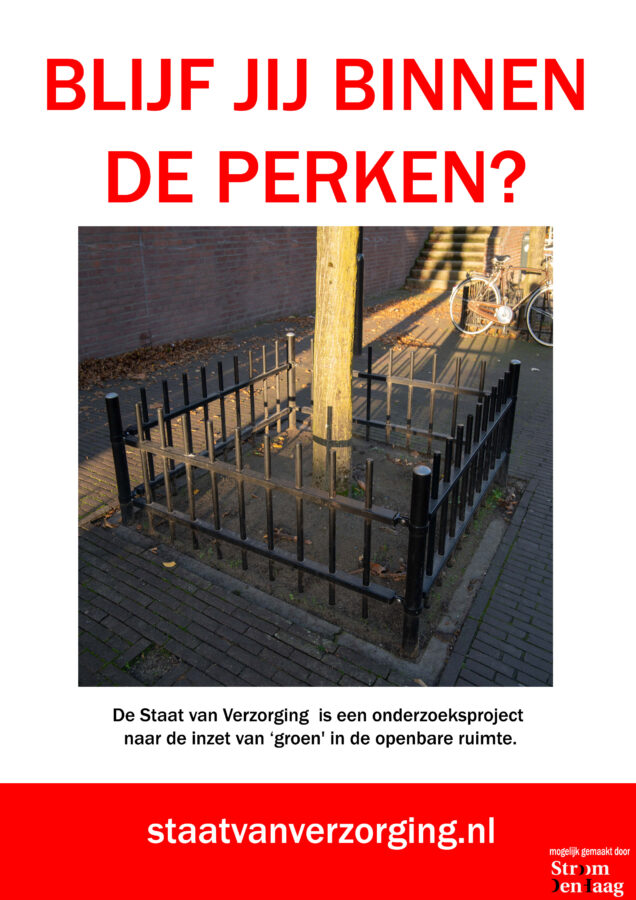 << Home
STADSGROEN
MANIFESTO
zonder
stadsgroen
is leven in de stad
niet mogelijk


stadsgroen
heeft veel
gezichten
stadsgroen:
kan gevaarlijk zijn
kan troost ge
ven
stadsgroen
heeft ons niet nodig
stadsgroen
wordt beschermd
stadsgroen
heeft
(een) geschiedenis
stadsgroen
is van zichzelf
stadsgroen
is een leefomgeving
stadsgroen
is van de gemeenschap
stadsgroen
is een
stadsgroen
is een
stadsgroen
wordt beheerd
stadsgroen
heeft functies

stadsgroen
wordt vervangen
stadsgroen
kan mensen samenbrengen

stadsgroen
kan mensen scheiden
stadsgroen
is TE KOOP
verschil
voor het
stadsgroen
is iedereen gelijk
Wij zijn niet
gescheiden
van het
stadsgroen
iedereen belandt aan het einde van zijn leven onder het
stadsgroen
vertel jouw verhaal aan het
stadsgroen


vertel jouw verhaal over het
stadsgroen
hoe gaat het met het
stadsgroen
in jouw omgeving?
stuur een bericht naar staatvanverzorging@gmail.com
en ik ga met jou in gesprek
<<<
<<
<
<<<